The CHAISE LONGUE VITRÉE bathtub has always been one of MOMA Design's "winning horses," designed with the specific purpose of giving transparency to the bathtub, which was conceived only as a shell befire, welcoming but closed in on itself.
Our CHAISE LONGUE VITRÉE model was one of the first bathtubs with glass walls to be launched on the market, immediately enjoying immediate success. The very concept of the bathtub was revolutionized as a result: an object that was previously only "intimate" now manages to converse with its surroundings and to be, in a sense, traversed by them.
Consisting of soft lines and made of the highest quality materials, the CHAISE LONGUE VITRÉE freestanding bathtub immediately evokes thoughts of boundless luxury and well-being.
The double-curved seat becomes visible in all its harmonious softness, thanks to the transparent glass sides, which become metaphorical windows opening onto the unique and private moment of bathing.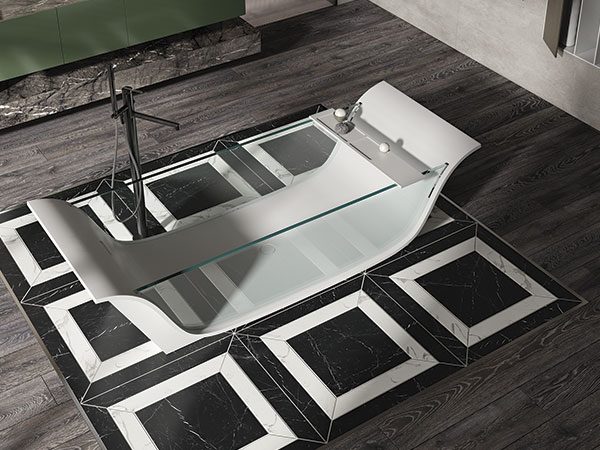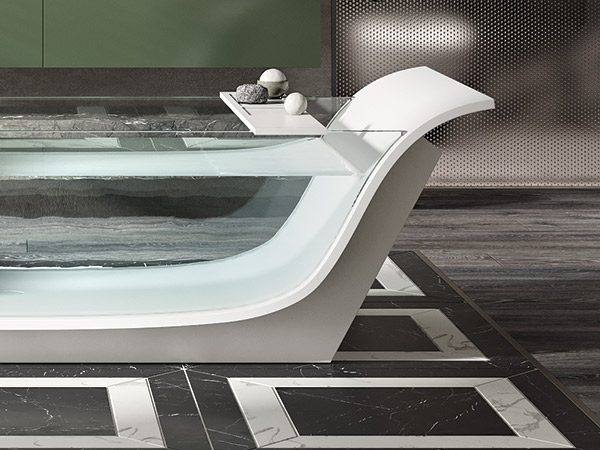 The CHAISE LONGUE VITRÉE tub gives relaxation something extra.
The solid base and double-curved seat lend comfort and support while bathing, while the transparent walls open up unexpected spaces.
The seat is available in White Stonage or the many colors of Corian. The base can match the bathtub or break its visual continuity through the use of wood, lacquered or in essence.
Beautiful and sensual, the CHAISE LONGUE VITRÉE bathtub has been chosen worldwide to stylishly furnish private homes and high-end hotel suites.
A contemporary evolution of this ico model by MOMA Design is the CHAISE LONGUE RIVE GAUCHE bathtub, where glass triumphantly wins out over Solid Surface, also becoming the bathtub's supporting element.
TECHNICAL PRODUCT INFORMATION
L. 1950 x W. 750 x H. 550 mm - CODE CLV30011750
L. 1950 x W. 900 x H. 550 mm - CODE CLV30011900
Bathtub: Stonage / Corian
Side walls: transparent tempered glass 19 mm
Base: Stonage / MDF matt lacquered or wood essence
Bathtub: bianco / colori Corian
Base: Stonage / MDF matt lacquered or wood essence
Overflow on the short side
Matching click-clack cap included
Waste outlet and siphon included
It is necessary to provide a hole in the floor dim: 400x400x80 h mm
External lacquering of the base


Waterfall filling from overflow - WTF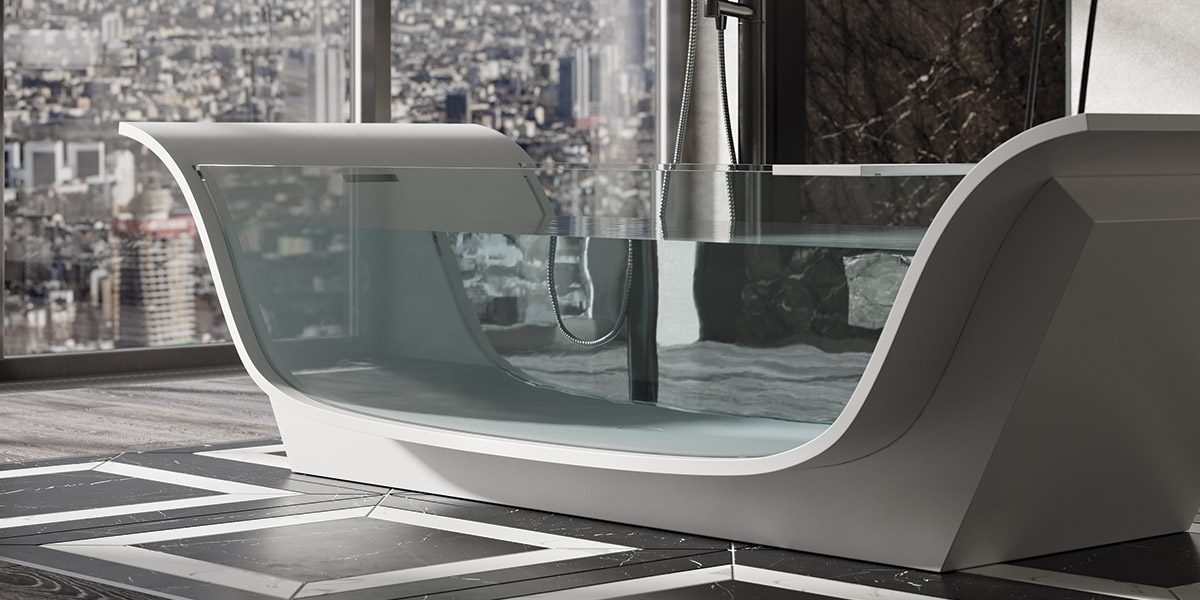 Tailor-made prestige solutions following the love for design, decor and personal well-being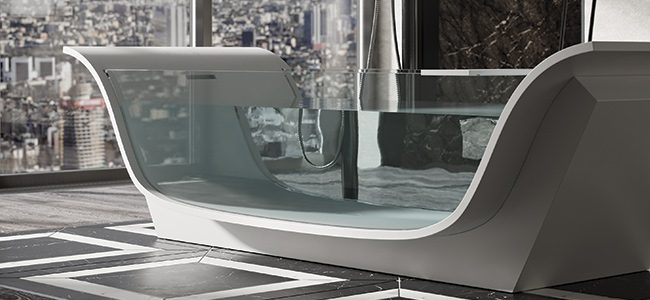 Tailor-made prestige solutions following the love for design, decor and personal well-being
Fill out the form below to request more information or a quote, or contact us on +39 02 90.36.12.25
Fill out the form below to request more information or a quote, or contact us on +39 02 90.36.12.25