Simplicity is the ultimate in sophistication.
For its products, MOMA Design uses composite materials whose basic characteristics fully meet the requirements for the bathroom usage.
MOMA Design pays great attention to the selection of the best materials for the production of its furniture lines.
The quality of the raw materials we use is a key component in achieving the highest technical, aesthetic and functional level.
Solid surface White Stonage
It is a state-of-the-art solid surface, unique and exclusive in its characteristics.
It is a composite material obtained from the combination of a natural mineral such as aluminum tri-hydrate (ATH) and a very high quality acrylic resin, PMMA acrylic polymer that is 100% pure, i.e., with the total absence of polyester resin, in order to guarantee the chromatic inalterability of the item over time.
It is produced through a process of "cast molding", low-pressure injection molding inside molds specially designed and built to cope with all market requirements.
Once inside the mold, under accurate operating conditions, the material undergoes a chemical reaction of catalyzation, which determines the final structure and intrinsic characteristics of White Stonage solid surface.
The resulting chemical, physical and mechanical material is similar to natural stone. A compact material with high functional and aesthetic performance, used to create flat and curved surfaces for furniture and architecture, with a strong visual impact.
Excellent mechanical and technological properties, high resistance to external stresses combined with remarkable malleability and ductility in processing steps are just some of the countless strengths of this material.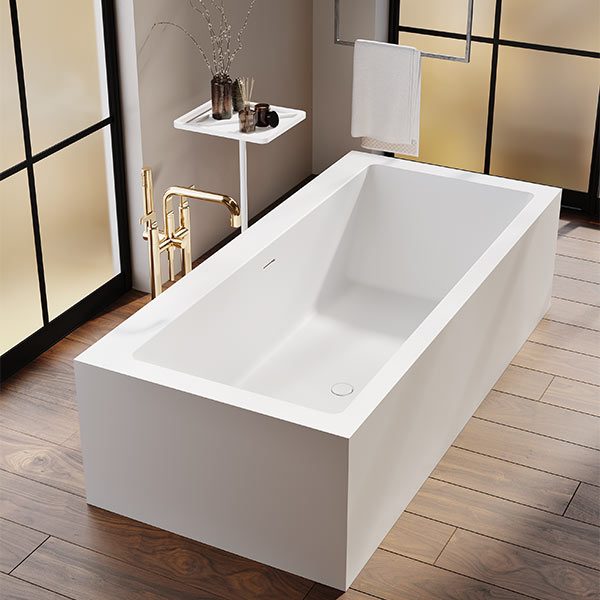 THE BENEFITS OF WHITE STONAGE
A state-of-the-art solid surface
Among the most significant advantages of White Stonage we find:
ATOXICITY – Thanks to its impermeability to dirt, bacteria, viruses and a great many chemical agents, Stonage is the ideal material for all those environments that require a high degree of hygiene.
FIRE RESISTANCE – Its proven fire retardant characteristics make it an ideal material for places where safety is the first criterion of choice.
BIOCOMPATIBILITY – Stonage is a 100% biocompatible material, meaning that in the event that it is released into the environment, it will not cause any pollution.
RESISTANCE TO SCRAP AND SHOCK – The high presence of natural mineral fillers such as ATH gives the material a remarkable surface hardness that can significantly resist scratches and chipping.
RESTORABILITY – In case of accidental damage of a certain extent, the Stonage surface can be restored to its original state by a certified professional. Its composition and color, which are homogeneous throughout the entire thickness of its mass, allow cuts and gluing operations, guaranteeing impeccable color continuity.
TECHNOLOGY – Being a solid surface, Stonage can be cut, thermoformed and glued, resulting therefore extremely versatile and adaptable to the point of satisfying and giving life to the most remote and complex geometries that the human mind can conceive, guaranteeing stylistic freedom without boundaries.
CHROMATIC STABILITY – Thanks to its excellent resistance to ultraviolet rays, the color of Stonage products remains alive and unchanged over time, maintaining all its original brilliance.
RECYCLABILITY – Stonage is a 100% recyclable material and does not emit volatile compounds.
EASY TO CLEAN – The compact, hygienic, fire retardant and non-porous surface is durable and easy to clean with common household cleaning products.
MOMA Design pays great attention to the selection of the best materials for the production of its furniture lines.
The quality of the raw materials we use is a fundamental component in achieving the highest technical, aesthetic and functional level.
Each collection is distinguished by the choice of FSC (Forest Stewardship Council) certified basic materials, a technical product standard that aims to promote worldwide the proper management of forests and forestry products.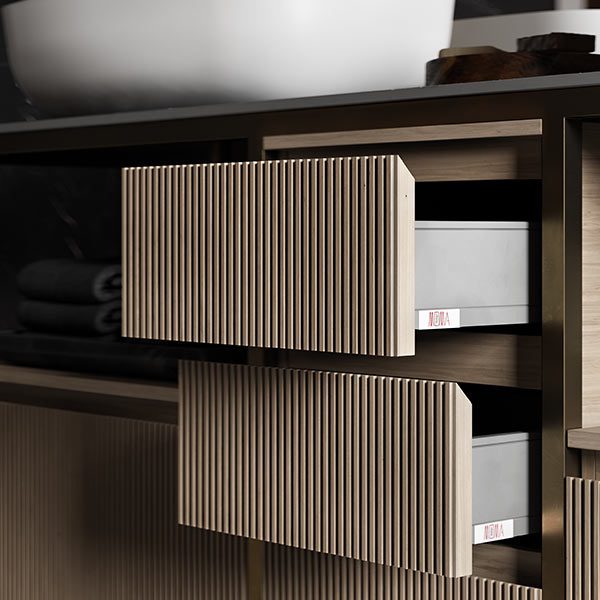 MDF – Agglomerate in the form of panels that originates from "chips" of selected woods, washed and then defibered by special metal discs. The fibers are mixed with resins and undergo pre-pressing to remove air before actual pressing. The heat produced during this operation activates the resin that binds the fibers.
VENEERED ESSENCES – Our wood veneers come from woods selected directly in the places of production: natural oak, white oak, gray oak, tobacco oak, Canaletto walnut, rosewood, ebony and wengé are the natural essences chosen for the creation of contemporary furniture that at the same time enhance the great Italian tradition of woodworking. Our collection has also recently been enriched with fluted milled wood panels in oak or walnut.
MELAMINE PARTICLE BOARDS – Melamine panels are wood-based panels, the interior of which is made of wood particles, mainly fir and poplar, and low formaldehyde resins, while the outer faces are covered with thick decorative papers or polymeric leaves, with a three-dimensional relief finish. This is a material that MOMA Design uses for the interior hidden parts of the furniture or wall units.
LACQUERS – Our lacquers are done with certified water-based paints that are free of heavy metals. The range of colors available is wide and possible in both matt and gloss finish. Our reference values follow the NCS system, which is widely used in the furniture industries to uniquely code the color of painted parts, so that the designer can juxtapose and match different products and materials with great ease and effectiveness in the results, building contrasting or tone-on-tone combinations.
KERAKOLL MICRORESINA WALL – Microresina Wall is an eco-friendly decorative and protective resin with an extra matt finish and silk-touch effect, soft to the touch. In MOMA DESIGN factory we use it by laying it by hand on 3D melamine-faced wood panels, covering the decoration to enhance the material pattern.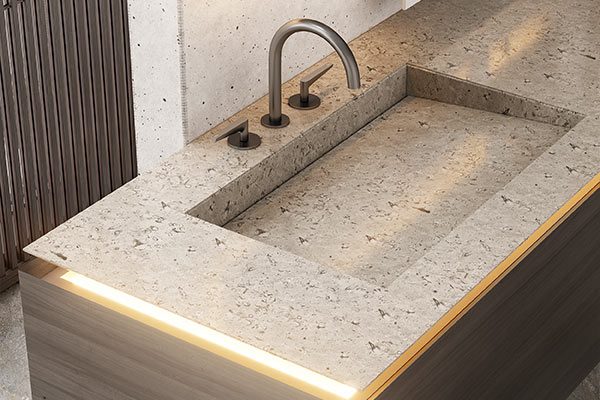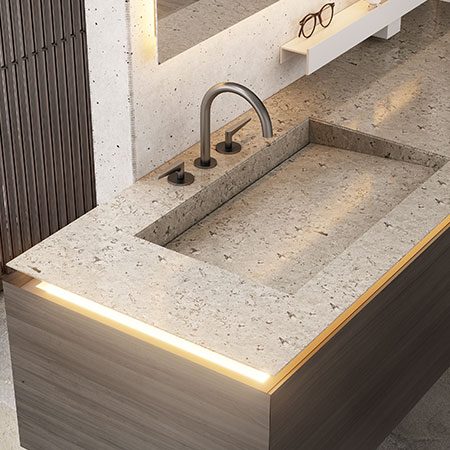 We select the best qualities of natural stone, from blocks from Italy and the rest of the world, such as Cosmic Black, a fine granite from Brazil, black in color with distinctive white veins and red and yellow tips, or Carrara White Marble Extra, also known as Carrara Marble C, the best quality on the market.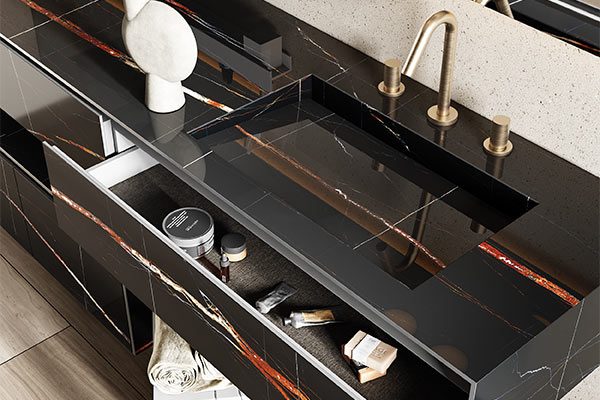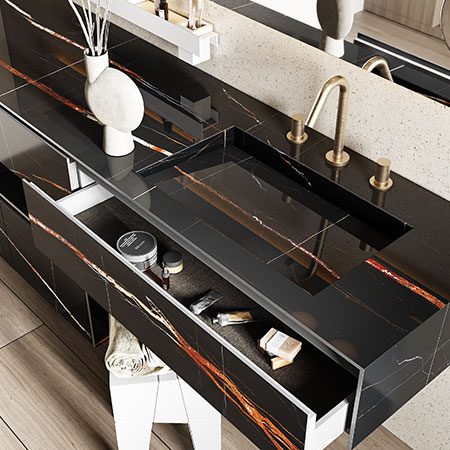 Porcelain stoneware used by MOMA Design is made in Italy by the best manufacturers, in factories with an ISO14001-certified quality system, using selected raw materials sourced from quarries around the world, through mixing in the pressing stage of mixtures with different types of minerals, to obtain a product aesthetically similar to natural stones and marbles, but with superior technical characteristics.
DOWNLOAD AVAILABLE FINISHES
MATERIALS: SOLID SURFACE / MELAMINE BOARD
MATERIALS: MARBLE / STONEWARE
MATERIALS: NATURAL WOOD / FLUTED WOOD