The JADE bathtub by MOMA Design is a customizable rectangular tub with one backrest.
The JADE bathtub is the most elegant of our molded bathtubs, with fixed internal dimensions and customizable exterior.
Equipped with an ergonomic single-backed seat, this tub is suitable for any bathroom where you want to include an element of luxurious well-being.
Being made by molding process, the inner corners of this rectangular tub are pleasantly rounded; the curved ergonomic seat will then give you the maximum comfort, following, welcoming and accompanying every shape of your body during the bath.
A characteristic feature of the JADE model is the presence of a curved, ergonomic interior, whose backrest can be positioned on the left or right depending on your needs.
The overflow is positioned on the long side, aligned with the drain.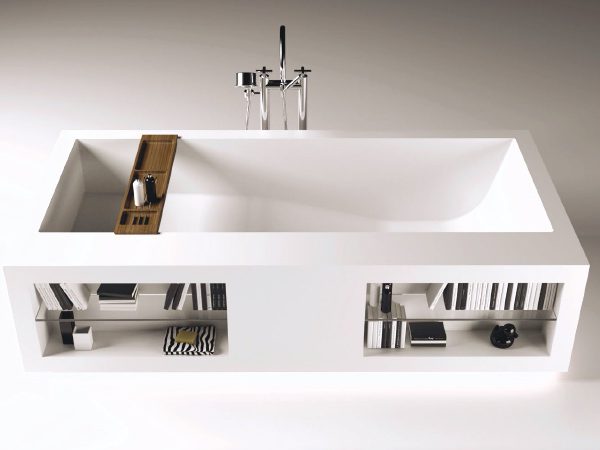 Depending on the type of installation, the JADE tub can be:

With four vertical walls
Freestanding

With three vertical walls
To be placed against a back wall
With two vertical walls
For corner placement between two walls

With one vertical wall
For placement in niche between three walls
(removable panel upon request)
TECHNICAL PRODUCT INFORMATION
L. 1740-2000 x W. 720-1000 x H 520 mm
L. 1640 x W. 640 x H 390 mm
Matching click-clack cap included
Waste outlet and siphon included
It is necessary to provide a hole in the floor dim: 400x400x80 h mm
Waterfall filling from overflow (minimum edge 70 mm) - WTF

Predisposition for taps on the tub's edge (minimum rim 140 mm) - PRB


Lower LED lighting (standard: 3000°K) - WLED / CLED

Glass predisposition on the tub's edge - GLSP

Library (min. length 1900 mm or min. width 850 mm) - LB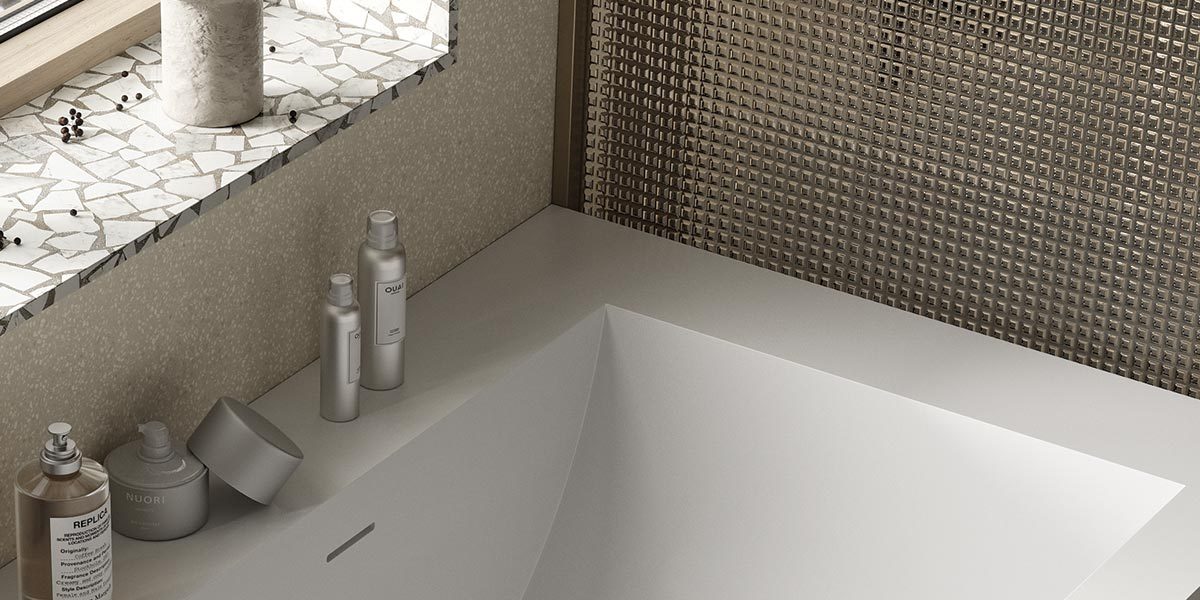 Tailor-made prestige solutions following the love for design, decor and personal well-being
Tailor-made prestige solutions following the love for design, decor and personal well-being
Fill out the form below to request more information or a quote, or contact us on +39 02 90.36.12.25
Fill out the form below to request more information or a quote, or contact us on +39 02 90.36.12.25